Compelling graphics explain estate planning concepts
Your door-opener to the estate planning market
Great for smaller estates—under $5,000,000—and one of the most effective programs for getting wealthy individuals to take action to preserve their estate
Designed for maximum effectiveness on the iPad®
Great combination: the best point-of-sale presentation shown on the best point-of-sale device!
Illustrates the benefits of basic planning techniques
Actions often result in a purchase of a very large life insurance policy
Show middle-market clients how to maintain control of new life insurance without a trust
Show wealthier clients how a trust keeps new life insurance outside the estate
Discuss estate planning without being an expert—let the software be the expert
Understandable Flow Charts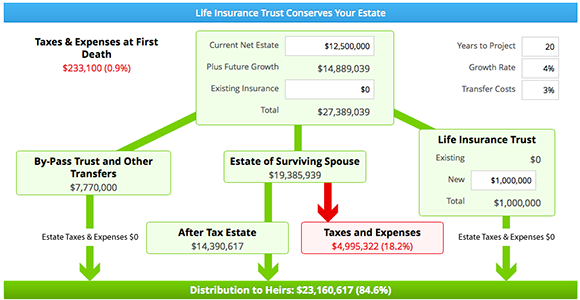 Emphasis is on estate planning—not just estate taxes
Estate Planning Concepts opens the discussion of other planning concerns
Bequests
Estate equalization
Charitable bequests
Family business
Designed to simplify complex estate topics
Estate Planning Concepts provides both screen and printed presentations that are proven to sell.
Estate Planning Concepts' interactive flowcharts allow you and your clients to play "what-­if." And calculations are immediate. You can get right to the screen presentation after the few simple inputs:
Current Estate
Existing Life Insurance
Years to Project
Growth Rate
Estate Transfer Expense Rate
Bequests to children, charity, or others
Use a By-Pass Trust and/or an ILIT
State inheritance tax calculations included for applicable states. Even with the increased federal Basic Applicable Exclusion and portability, this can be a substantial cost to the heirs
Includes planning features for your non-traditional clients such as

Domestic partners
Same sex marriages
Estate Planning Concepts can make your clients feel good about taking actions on recommended solutions
Estate Planning Concepts does the selling for you
Leave a motivating presentation with your client
Resource screens answer questions with simple graphics
Keep clients' attention with compelling graphics and colors
PlanFacts
This conceptual program integrates and works alone or with any of Zuryc's PlanFacts products. PlanFacts is a series of products that provide conceptual answers to your clients' questions—especially baby boomers approaching retirement decisions.
Even when clients have complex financial needs, they must see a "conceptual plan" before they are willing to begin detailed analysis—conceptual presentations "bridge" this gap!
Estate Planning Concepts is simple and compelling: It persuades people to take actions.
One of the most successful estate planners used this presentation with a wealthy client with whom he had worked for over a year to complete his estate plan. Some of the finest estate tax attorneys, CPAs, and trust officers in the country were also frustrated with this client for stalling and not executing the plan on which they had collaborated. After the presentation the client simply said, "Go ahead and finish my plan." The "finish my plan" included putting in force a very large life insurance policy. Later, the agent asked this client why this simple conceptual program caused him to proceed, when the finest estate planners in the country couldn't convince him. His answer, "I was not going to spend a million dollars a year in premiums without understanding why. Your program showed me why I was doing it."